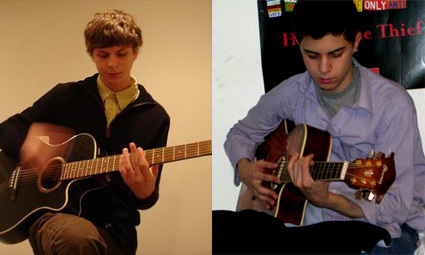 DJ Matt Werner's exclusive interview with spoken-word artist George Watsky, originally aired on Fresh Air: The Alternative on November 11, 2008.
In this interview, rising hip hop sensation, writer, and performer George Watsky addresses his beef with Michael Cera, and his experiences performing on the Def Poetry Jam, and working with Robert Redford in sustainability. This podcast also features 6 of Watsky's tracks and poems: Lonely Hearts Club, Half Jewish, Where the Sidewalk Ends, Fight! Fight! Fight! (with Dahlak Brathwaite), Run My Mouth, and his Michael Cera diss track.
Also, check out his website http://georgewatsky.com/ for some funny blog entries, like this one: The Whitest, Least Famous person performing at the NAACP Image Awards…. He has a stop-motion video for I Got This Love and a popular video called Pale kid raps fast:
(Right click and select "Save Link As" to download the large, 89 MB mp3 audio file)
Click on the player to listen to the 40-minute interview and feature on writer and performing artist George Watsky.
Audio clip: Adobe Flash Player (version 9 or above) is required to play this audio clip. Download the latest version here. You also need to have JavaScript enabled in your browser.