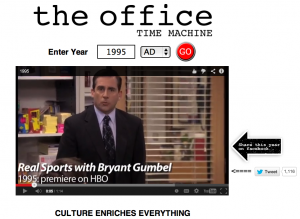 Joe Sabia, a copyright reform activist and viral video maker, launched a new site today featuring 1,300 clips from The Office to make a point about the fair use doctrine: http://theofficetimemachine.com.
He spent the last 18 months creating this site to make a statement about the current state of copyright law harming online video creators. I was happy to edit the website text.
Read more about it on EFF: https://www.eff.org/deeplinks/2014/03/culture-enriches-everything-fair-use-and-office-time-machine.