Before I review Berkeley author Michael Pollan's latest book Cooked: A Natural History of Transformation, here's a throwback book review I did of Pollan's book The Omnivore's Dilemma for San Francisco's Mensa publication, the Mensa Intelligencer back in May 2008.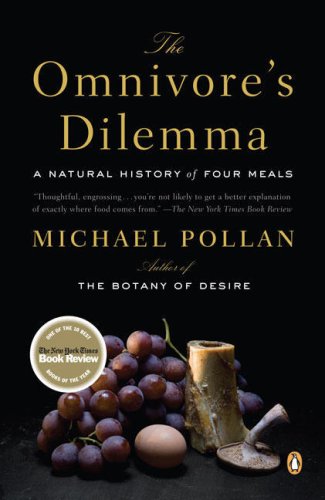 If Mensans were to 'get Michael Pollan' about what they ate (or in other words—really think about what they consume), their eating habits would radically change. Michael Pollan's The Omnivore's Dilemma is billed as "a natural history of four meals," but it is about much more than food. UC Berkeley Graduate School of Journalism professor Michael Pollan begins the book closely examining the omnipresence of corn in the modern American diet. Pollan then goes beyond the territory traversed by other books like Eric Schlosser's Fast Food Nation, by not only critiquing the unsustainable American practices of large-scale corn farming and PETA-angering Concentrated Animal Feeding Operations, but by offering alternatives to these destructive systems.
Pollan explores the benefits and drawbacks of industrial organic, and the burgeoning movement of 'local organic' quite popular here in the Bay Area. Pollan looks beyond the rosy labels in the market and actually goes to the factories where our food is produced. Pollan writes, "The Judy's label had always made me picture a little family farm, or maybe even a commune of back-to-the-land lesbians up in Sonoma." But Pollan later finds out that Judy's eggs are produced out of a big operation called Petaluma Eggs, an operation he was denied access to due to concerns "about biosecurity."
Pollan writes about how gardening and other self-sustaining practices like knitting are still popular in our highly industrialized society, and he expresses the American need to rectify the producer-consumer disconnect. "Evidently we want to be reminded how the fundamental processes that sustain us, by now hidden behind a globe-spanning scrim of economic complexity, actually work. It may be little more than a conceit at this point, but we like to think of ourselves as self-reliant, even if only for a few hours on the weekend."
The want to "eat a meal in full consciousness of what was involved" leads Pollan, an investigative food journalist, to hunt wild pigs in a remote area north of Healdsburg, CA. His motley crew includes his "foraging Virgil," Angelo Garro, "a stout, burly Italian with a five-day beard, sleepy brown eyes, and a passion verging on obsession about the getting and preparing of food," and Jean-Pierre, "a Frenchman who works as a chef at Chez Panisse" who wore a "green felt Alpine fedora with the feather (a hat he managed to wear without so much as a trace of irony) and a pair of tall black riding boots."
After hunting, Pollan admits, "I enjoyed shooting a pig a whole lot more than I ever thought I should have." Pollan's joy at his first kill is later complicated by feeling ashamed of killing a living creature and celebrating next to the pig's carcass with an ecstatic look on his face that reminded him of the photos from Abu Ghraib.
Pollan tackles many complex issues with diligence, intellectual rigor, and a humor that should appeal to many Mensans. Pollan even complicates things for vegetarians and vegans, noting that no one is innocent because countless field mice and other creatures are killed in the harvesting of wheat and soybeans that make up much of their diets.
Pollan raises many difficult questions throughout his book, which made him turn vegetarian, and then go back to eating meat consciously. But Pollan's book is not a new fad diet book, or a dry treatise on farming legislation. It is an incisive look at "our national eating disorder," and Michael Pollan's solution to this disorder is for Americans to consume consciously.
–Matt Werner